WRITER'S WEEKEND RETREAT
SEA GIRT, NEW JERSEY
APRIL 28, 29, 30, 2017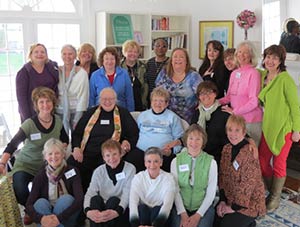 WOMEN READING ALOUD will host its 9th Writer's Weekend Retreat in NJ devoted to women writers who are looking for time to write in a nurturing environment. Writers will stay at The Beacon House in exquisite accommodations. (www.beaconhouseinn.com) Each writer will enjoy her own private room and private bath. Just one block from the ocean, the atmosphere captures casual elegance. Begin the day with a walk on the beach. Discover your authentic voice through writing workshops modeled after the Amherst Writers and Artists Method. This method allows writers to flourish at every stage of the creative journey. Read testimonials from our sold-out New Jersey Shore retreats.
WORKSHOPS: Led by Julie Maloney & Jacqueline Sheehan
JULIE MALONEY... is founder/director of WOMEN READING ALOUD. Julie leads writing workshops throughout the year, gives readings, and speaks to "Writing As A Life Tool" in a variety of venues. She leads a "Writing to Heal" Series she developed for the Carol G. Simon Cancer Center at Morristown Memorial Hospital in NJ. She comes to the writing world after an extensive career as dancer, choreographer and artistic director of her own company. Her book of poems, Private Landscape, has been published by Arseya Publishing. Julie is a former columnist for SilkPurse Women featuring Women in the Arts. She has been on faculty with the (IWWG) International Women's Writing Guild. This June, she returned from leading WOMEN READING ALOUD'S sixth international writer's retreat in Greece. Continuing the widespread growth of WRA, she lead their first Writing and Yoga Retreat in the South of France this past September. She will return in 2017 to host WRA on the island of Alonnisos. She is working on her 2nd novel as she continues to write poetry.
JACQUELINE SHEEHAN... Ph.D. is a bestselling writer. Primarily a novelist, she also writes short stories, essays (most recently in Modern Love, a New York Times column), travel pieces, and is currently a commentator for New England Public Radio. Her first novel, The Comet's Tale, was based on the life of Sojourner Truth. The next two novels, Lost & Found and Now & Then, were New York Times bestsellers. Her most recent novel, Picture This, was published in 2012. Her books have been translated into six different languages. Jacqueline edited Women Writing in Prison, a compilation from writing workshops with incarcerated women. She is the grateful recipient of writing fellowships at Hawthornden Castle in Scotland and Jentel Arts in Wyoming. She currently teaches writing workshops through Writers in Progress in Florence, Massachusetts, and Grub Street in Boston. Please visit her website at www.jacquelinesheehan.com or at Facebook.com/JacquelineSheehanAuthor.
To ensure an intimate atmosphere, this retreat will be limited to 20 writers. All participants will have the opportunity to write in 5 workshops. This is a perfect time to discover new material, as well as to continue with an ongoing writing project. Curl up on the wraparound porch and listen to the waves. WRA invites you to write, relax, and breathe in a weekend devoted to your writer's self. Come and be part of the writing "kula," the WRA writing community.
Includes: All workshops (5), materials, meals - 5 meals (Dinner open on Sat. night), private bedroom and bathroom (2 nights). Hot tea and cookies and iced lemon water available all day. Taxes and gratuities. "Welcome Dinner" on Friday evening. Check-in: Friday - 3 PM. Check-out: Sunday - 3PM.
COST: $890 – with $100 non-refundable deposit by Dec.1st, 2016
COST: $940 – with $100 non-refundable deposit after Dec.1st, 2016
BALANCE DUE - MARCH 1st, 2017
CLICK HERE FOR REGISTRATION FORM