WRITING AND YOGA RETREAT
SOUTH OF FRANCE
AUGUST 20 - 29, 2017
SOLD OUT - WAITING LIST AVAILABLE
JULIE MALONEY, director of WOMEN READING ALOUD, and JO ANN STAUGAARD-JONES, international yoga instructor will lead this immersive retreat for women. Open to all writers and yogis at all levels. Writing workshops follow the Amherst Writers and Artists Method designed to engage the writer in the discovery of new material, honing of craft, and exploration of the authentic "voice." Some writers may use the workshops as an opportunity to continue an ongoing project. Hatha Yoga classes engage the individual with clear instructions and helpful cues designed to offer a positive experience. Special attention to anatomical placement provides gentle guidance at each person's level. ENGAGE all the senses from culinary delights prepared by a special chef hired just for us, to attending the annual arts festival.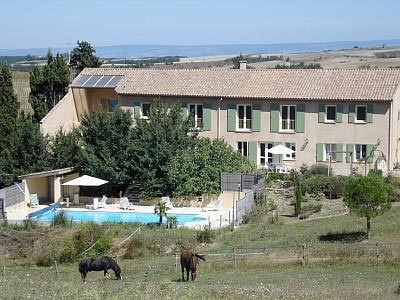 GETTING THERE:
Fly to Toulouse, France, via Paris or any other major city that connects you to Toulouse. A designated time (afternoon) and place on August 20th at the Toulouse airport will be arranged for the group's pick-up. Transfers to and from the airport included. Some attendees may opt to rent a car for sightseeing before and after the Retreat.
ACCOMMODATIONS:
Centre Terra Nova (http://www.terranova.center)
Built in 2000 on eight acres on the remains of an old winery, Terra Nova offers peace, beauty, and wellness. Each attendee enjoys a private room with private bathroom. Breathtaking views of the Pyrenees included. Breakfast room indoors and outside on the patio. Large yoga room with props available such as yoga mats etc. All meals included, prepared by our specially hired cook featuring organic Ayurvedic meals with carefully coordinated menu. Wine, of course!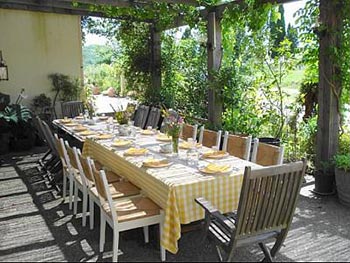 SCHEDULE:
August 20 – 29, 2017
Early morning yoga each day
3 hr writing workshop each morning
Yoga late afternoon
"Nite Writes"
Meditation and Relaxation Techniques
Excursion trip to Carcassonne with boat trip and lunch
Miropoix - Feast your eyes at the Market
TOTAL COST:
$2595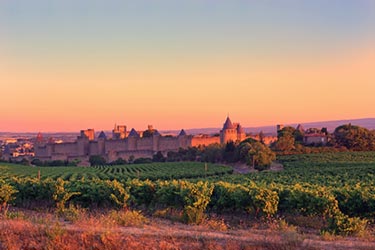 Includes:
Private Room and private bathroom
All meals including "Welcome Dinner" and "Closing Reception" with Dinner
Transfers to and from Toulouse Airport
Excursion trip to Carcassonne, Boat Trip
through the Midi-Canal
All Writing Workshops
All Yoga/Meditation Workshops
Wine-Tasting Excursion (optional)
Spa Night
Art Festival
Excludes airfare
Optional Private Spa Treatments
Optional Horse-Coaching Sessions
Payment: $500 non-refundable deposit
Balance due June 1, 2017
International attendees may request an invoice and pay via PayPal with additional handling charge.
Prepare to be wowed. Julie Maloney possesses an extraordinary gift for seducing dormant genius out of the writers who attend her workshops and retreats. Novices and seasoned writers alike find confidence, inspiration, camaraderie, and joy within the safe spaces of Julie's creation. Grant your writer's soul entry into this magical realm. What goes on here will rock your world. -- Joanie Collins, CO
My time in France now feels like a dream. Life-changing, yet it's hard to believe it all really happened. Thank you for all you did to make the week in Languedoc so precious. -- Julie Christine Johnson, OR
In the rolling hills just beyond Toulouse, France, I found a chance to write what I knew and what I didn't know I knew in a rustic retreat known as Terra Nova. There, the Women Reading Aloud journey, led by Julie Maloney, unleashed words full of memory and of possibility in a kula of women whose minds and imagination were opened to where our words wanted to take us. When not writing, yoga, horses, amazing meals, and hillsides filled with sunflowers offered our bodies and minds fuel and focus to push the pen again across the paper, to allow the shadows and sunsets over the Pyrenees to call to us, encourage us to say what was in each of our hearts. -- Mary Hutchins Harris, SC
CLICK HERE FOR REGISTRATION FORM